Fairest is the chilling story of Queen Levana, the "fairest" queen that Luna has ever seen, and possibly the most evil. (Rating: 5/5)
*This is book #22/35 for my 2015 book challenge. You can take a look at the reading challenge here.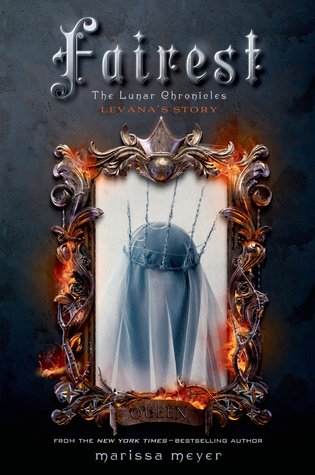 $
In this stunning bridge book between Cress and Winter in the bestselling Lunar Chronicles, Queen Levana's story is finally told.

Mirror, mirror on the wall,
Who is the fairest of them all?

Fans of the Lunar Chronicles know Queen Levana as a ruler who uses her "glamour" to gain power. But long before she crossed paths with Cinder, Scarlet, and Cress, Levana lived a very different story – a story that has never been told . . . until now.
First of all, how stunning is that cover? Second of all, as you can see above, this book doesn't even need a summary. If you're already a fan of The Lunar Chronicles, you already want to know about how the Lunar Queen, Levana became such an evil queen to begin with. We all had questions, and I'm glad that this book answered as many of them as they could.
Levana has always been a bit evil, though at least we now understand why. She was badly disfigured because of her selfish, even more evil sister Channary, and grew up without the love of her parents or her country. She grew up with so much self-hated that you start to pity her. She reacts in the only ways she knows how to, and in the end she lets her own insecurities drive her mad. It's such a necessary piece of the puzzle, and it was fantastically written.
I don't want to spoil anything, so I will simply say that this book could be read as a standalone or as a companion for The Lunar Chronicles. As a fan of the series, it was so nice to get a peek at how all of this happened, and the way things work on Luna. That part was always the most fascinating, for me, and I'm so glad to have gotten some answers. While I can't wait to read the finale, Winter, I am very sad that the series I've grown to love is coming to an end. If you haven't already read the series, but are wondering if it's right for you, starting here is a great idea. It's not nearly as long as the other books, and will definitely give you a taste for the real thing.
I am also still so impressed with the way Marissa Meyer was able to retell classic fairy tales in such a new and unique way. Every detail is impeccably integrated into their stories, and I think she deserves so much praise for being able to take stories that pretty much everyone is familiar with and turn them into something so vastly different.
Rating: 
If you're interested in reading my GoodReads updates from this book you can do so here. I must say, they're quite entertaining. It will tell you exactly what I was thinking on certain pages.
Like what you see? Follow Drunk On Pop on bloglovin'!