Book two of 'The Selection' by Kiera Cass had me itching for more. I devoured 'The Elite', it was that good. Rating: 4/5
*This is book #27/28 for my 2014 book challenge. You can take a look at the reading challenge here.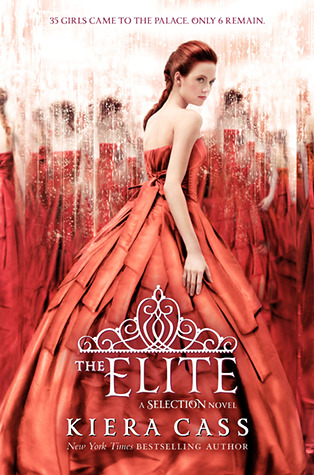 The Selection began with thirty-five girls. Now, with the group narrowed down to the Elite, the competition to win Prince Maxon's heart is fiercer than ever–and America is still struggling to decide where her own heart truly lies. Is it with Maxon, who could make her life a fairy tale? Or with her first love, Aspen, who she always thought was the one?

America is desperate for more time. But the rest of the Elite know exactly what they want–and America's chance to choose is about to slip away.
This is the second book of 'The Selection' series. Do not read this review if you have not read the first book. Book one (The Selection) received a 4.5/5 rating.
I devoured this book. Had I not had to work or sleep I would have read this in far fewer days than it actually took me. I enjoyed this, and the first installment, so much that I stayed at work late one day to try and find the third book so I didn't have to wait even 10 minutes before I could start it. The Elite was great, but it was flawed like most sequels. So we'll break this book up into the good and the bad.
The Bad:
SO MUCH WHINING. I hate love triangles for this very reason. The female main character is always whining about how she can't choose and she loves them both for different reasons and blah blah blah. It makes me lose respect for the character. America Singer was constantly on about how Prince Maxon cared for her and did this and did that but the minute something happened that was even a tiny bit off she would immediately disregard him completely. Instead of, oh I don't know, having a conversation with him like an actual person. And then there's Aspen. Aspen is her first love, I get that. I get that she didn't even want to be a part of The Selection without Aspen breaking up with her. I get all that. But come. the. fuck. on. already.
I am also real fucking sick and tired of the female main characters in young adult books INSISTING that they're nothing special. I know that most girls really feel that way and so authors like to bring them characters that they can relate to, but that's only further "proving" that "plain girls" have nothing to offer. And that's just not true. Give them characters that are at least not completely insecure all the time. At least give them characters that can take a compliment and aren't constantly talking themselves out of doing good things. Give them a person to strive to be like. Or, just write original characters. Period.
My only other problem was that I also hate when the main characters in books are constantly allowing what other people say or little things they think they see dictate how the feel about a person or situation without thinking rationally or talking it out. I can't stand that shit.
The Good:
As someone who loves pop culture, this book really gets to me. It's got this Bachelor-esque feel to it in that these girls are all vying for the heart of one man. I don't even like The Bachelor. I was much more a fan of Rock of Love with Bret Michaels, to be honest. I'm not even joking. I liked that it discussed how the girls were chosen. It wasn't random, it was picked for ratings or for who could do the most good for Maxon's politics. It's very true to how these things are done in "real life". I liked that they brought the rebels in more often – though it is a bit strange that this is a castle that holds a King, Queen and their only son and so many "poor" people keep managing to break in. I really enjoyed that we saw America lose her cool a bit and that there was a bit more world building in the form of Gregory Illea's diary. I also loved that they gave minor characters a bit more play this time around.
Like I said, I can't wait for the next book. I know there are quite a few reviewers out there that have issues with this series, and I think it's more along the lines of personal preference. You're either going to really enjoy the plot or you won't. My guess is that if you can't stand reality TV you also won't be able to stand the cheesiness that does occur here.
Rating: 
If you're interested in reading my GoodReads updates from this book you can do so here. I must say, they're quite entertaining. It will tell you exactly what I was thinking on certain pages.
Like what you see? Follow Drunk On Pop on bloglovin'!