Kiera Cass' The Selection absolutely rocked my world. Fangirling will most likely ensue. You have been warned. Rating: 4.5/5
*This is book #23/28 for my 2014 book challenge. You can take a look at the reading challenge here.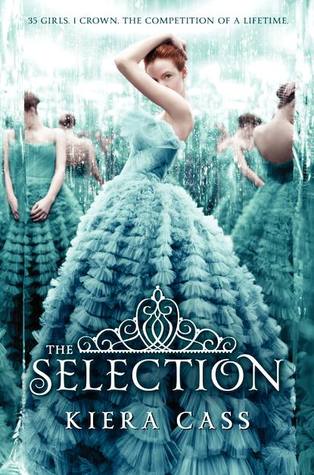 For thirty-five girls, the Selection is the chance of a lifetime. The opportunity to escape the life laid out for them since birth. To be swept up in a world of glittering gowns and priceless jewels. To live in a palace and compete for the heart of gorgeous Prince Maxon.

But for America Singer, being Selected is a nightmare. It means turning her back on her secret love with Aspen, who is a caste below her. Leaving her home to enter a fierce competition for a crown she doesn't want. Living in a palace that is constantly threatened by violent rebel attacks.

Then America meets Prince Maxon. Gradually, she starts to question all the plans she's made for herself–and realizes that the life she's always dreamed of may not compare to a future she never imagined.
Guys, I had a really hard time rating this book. Because I looooved it. I really, seriously, Bella Swan style fell in love with this book – quickly. It was definitely well written, which we'll get to, and I thoroughly enjoyed the plot and the characters. But I don't know if it's a 5 level book. What I mean is that, it wasn't life changing. It's so hard to explain. I'm still grappling with this decision, so do not be surprised if the rating seems to change in the near future.
The Selection was a kind-of accident. I wasn't supposed to be spending any more money. I was supposed to be reading the books I already owned first. Or at the very least, I was supposed to finish the series I had already started. But you see, what happened was… it's all my brother's fault. I was stuck for two hours waiting for my brother so I popped into B&N and impulse bought the book. I am so glad I did.
I devoured this book. Absolutely devoured it. I don't know what it was about it that sucked me in so intensely, but this book completely distracted me from my life and I couldn't stop reading it. I normally set goals for myself of either 50 or 100 pages a day depending on how busy I am, but this was one of those books where I was reading and reading and reading for hours and didn't even realize I had gone through several chapters. I had to physically pull myself away from the book at times, and that is a testament to Kiera Cass' ability to tell a great story.
The characters were totally on point. I have no complaints. They were people you could really root for. There was also people you wanted to hate but couldn't, and then people that you absolutely hated. All of the bases were covered, and all of the bases were covered right. We also have a strong, independent female lead which I LOVE. There was no insta-love. There was a love triangle, but I think it was done exceptionally well and not nearly as annoyingly as other YA novels have done.
The book had these great dystopian elements that I love, but it also had a sort of reality show (think Bachelor) thing going on which I fully enjoyed. I love reality shows, I love the amount of drama and pre-planned shit that goes on with reality shows too. I found this and the whole competing for love angle to be interesting and different.
I've seen a lot of negative things on Goodreads about this book and I don't understand where people are coming from. Issues with the author's controversy aside, I find the mocking to make little to no sense. Some complaints have included historical inaccuracy (this is a book, authors can take some liberty, not to mention it isn't completely impossible for these events to occur in the future). The crazy names (Paltrow named her daughter Apple, for fucks sake, so that is no reason to dislike a book). I've seen many other complaints, but I won't go into them here. As much as I enjoyed the book, I was more shocked to see how many people hated it, and why.
Rating: 
If you're interested in reading my GoodReads updates from this book you can do so here. I must say, they're quite entertaining. It will tell you exactly what I was thinking on certain pages.
Like what you see? Follow Drunk On Pop on bloglovin'!