"The One", book three in Kiera Cass' 'The Selection' series, was an emotional roller coaster in all the right (and heartbreaking) ways. Rating: 4.5/5
*This is book #28/28 for my 2014 book challenge. You can take a look at the reading challenge here.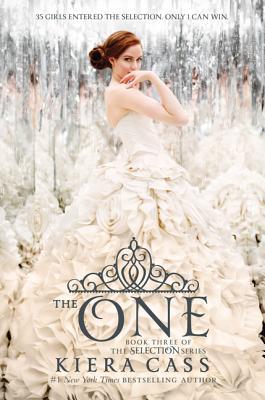 The time has come for one winner to be crowned.

When she was chosen to compete in the Selection, America never dreamed she would find herself anywhere close to the crown—or to Prince Maxon's heart. But as the end of the competition approaches, and the threats outside the palace walls grow more vicious, America realizes just how much she stands to lose—and how hard she'll have to fight for the future she wants.
This is the third book of 'The Selection' series. Do not read this review if you have not read The Selection and The Elite prior.
Wow. This one was an emotional roller coaster. As impressed as I was with the first two books, this one far outshone them both. With sequels it's normal for the plot to plateau a bit, and I am so glad that this one picked the pace up tenfold.
Some of the issues I've had with the other books were still present. The love triangle was on it's last leg, and I was continually annoyed that America and Maxon wouldn't just communicate with each other. This was mostly made up for, though, by the fact that America finally admitted to the reader that she wanted to be with Maxon, and that meant she was (finally) going to start getting involved in the selection process.
When I said I devoured The Elite, it was nothing compared to how quickly I pushed through The One. I needed to know what was going to happen. So badly that I stayed up until 3 am reading it and then woke up at 730 am and picked it back up immediately. I needed it so badly and enjoyed it so immensely that when I realized I have about 30 pages left and a ton of stuff needed to happen I began to panic. I was right for doing so. Really, my only complaint with this book was that it just ended too quickly. I would have liked to have had time to process all of the events that happened in the last few pages. So much happened that I could have took a whole other book out of it all. There were major character deaths, a decision finally made and so many things learned that just, like, didn't get brought up again. (Like ps, whatever happened to Paige??)
Speaking of character deaths, I didn't realize how invested I had really become with the story and the characters until I found myself sobbing over them. The deaths hurt as much as the deaths did in The Hunger Games, and I think that's saying something.
I was really happy with how the plot progressed throughout this installment. We got to learn so much more about the world and how everything operated. I liked that they brought in some interesting characters. (See also: Paige. I liked her) There was a lot going on and I wish more of that had been focussed on in the second book instead of just introduced.
I want more. I know there are novellas that have been published and a fourth book that is about the heir, but I want more of America and Maxon. I want to know what happened immediately after the epilogue and I want to know about all the loose ends. Perhaps we'll find out in the fourth book, but I don't think it'll be the same.
In other news, I've been so whipped by this book that earlier while I was listening to music an old song came on shuffle and I was completely taken back by how much it reminded me of The Selection as a series whole. So I shall share it with you all. Unfortunately, all I could find available in the United States is a performance Christina Aguilera did in 2000.
The entire song reminds me of the series, but specifically:
Everything I know about you so far
Makes me believe that you're the one for me
But there's still a lot that's on my mind
And I need time before we go further
Don't you see
So hold me, fold me, but don't be
Thinking I don't want you too
Don't make me love you till I'm ready
Don't make me give you more than my kisses
I need you to go slow and steady
Don't make me love you till I'm ready
Rating: 
If you're interested in reading my GoodReads updates from this book you can do so here. I must say, they're quite entertaining. It will tell you exactly what I was thinking on certain pages.
Like what you see? Follow Drunk On Pop on bloglovin'!