Who said working out had to be boring? Here are three unconventional sports to get your body moving this siu
When it comes to sports, many of us haven't engaged in all too many since gym class. Who can blame us? Working out at a gym just seems like such an easier option than getting together for team sports. You turn up when you like, only confined by the timetable of particular classes you might like to take. If you miss one, not to worry! There's another class on later in the week, and that's if we're working out at all! The gym allows a certain level of independence when it comes to your workouts. You don't have to commit to specific times. A lot of the time, you don't even need to commit to one location, with more and more branches offering members access to their different branches across the country. But that's not to say that you should completely write team sports off. There are endless benefits associated with different sports. So here are a few for you to consider.
Netball
Photo Source
Netball is a team sport that often appears easier than it actually is. But the netball community is strong and training sessions can see you not only get a workout, but also make a whole host of new friends on the team. You will exercise your body, but also your mind too, as you will have to learn tactics, work out others' positions and plan your next pass or move wisely. What's more? You get to wear a team uniform and can invite friends or family along to matches to cheer you on!
Golf
Photo Source
Okay, you probably associate golf with your dad and his work friends. It's not the generally stomping ground of the younger generations. But give it a go! It's surprisingly fun and isn't all about scoffing with your friends with pastel jumpers thrown over your shoulders and drinks in the clubhouse. Golf is a low energy sport, meaning you can focus more on your technique, style, and skills in a calm and soothing environment. If you're the competitive type, it's also easy to get into competition and competitive play. Trophies for golf players could begin to line your shelves in no time. Plus, Niall Horan is a huge golf fan and player. Maybe you'll even run into him on the green!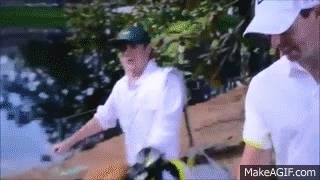 Roller Derby
Photo Source
Roller derby. The tough girl's sport. Or is it? Admittedly, roller derby is high contact and you are likely to experience a few bruises (or more affectionately named, "derby kisses") along the line. But the whole sport isn't about beating people up. Everything depends on your position within the team. Some member's role is, admittedly, to knock opponents out of the way. But other positions are pretty well protected and mainly require being fast, agile and nimble on your (skated) feet. The sport will get your adrenaline going and you will have so much fun along the way! Research to find your local teams and head along to a taster day. These will often be free and your skates will usually be provided. As you become more committed to the sport, you can start to invest in your own skates and choose your derby name. Needless to say, you'll be the belle of the ball at the next roller disco, showing off your new moves.