Since You've Been Gone has some great music playlists, a pretty epic to-do list, and proof that you should always expect the unexpected.
*This is book #20/35 for my 2015 book challenge. You can take a look at the reading challenge here.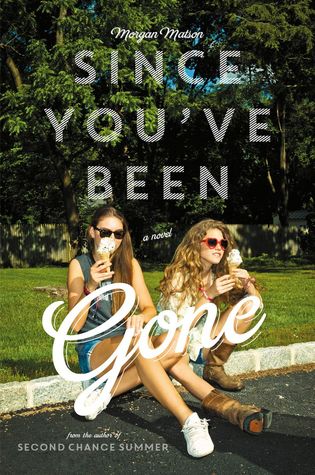 It was Sloane who yanked Emily out of her shell and made life 100% interesting. But right before what should have been the most epic summer, Sloane just…disappears. All she leaves behind is a to-do list. On it, thirteen Sloane-inspired tasks that Emily would normally never try. But what if they could bring her best friend back?

Apple picking at night? Okay, easy enough. Dance until dawn? Sure. Why not? Kiss a stranger? Um…

Emily now has this unexpected summer, and the help of Frank Porter (totally unexpected), to check things off Sloane's list. Who knows what she'll find?
I really, really enjoyed this book. I took some time after reading it before reviewing because I genuinely missed the characters, and I felt like I needed time to grieve their absence. Morgan Matson has written a lot of books like this one, including Amy & Roger's Epic Detour, in which she lets the story end as it does and never promises a sequel. Which is cool, because she does the whole Sarah Dessen thing where the characters and places kind of pop up in the other stories, but is also really sad because you grow attached to them and want to see what happens to them next.
I've come to realize that the books that I write the least amount of updates for on Goodreads are usually (but not always!) the best books. I was so enthralled with this one that I never really felt the need to stop reading to make a note of something. I really love when authors can create complex, flawed characters – especially when it comes to contemporary fiction. I want to be able to understand and relate to them, or at least understand their motives. I really enjoyed the character development in Since You've Been Gone and while a lot of it was set up to be a bit too easy on Emily, it wasn't enough so that I was disinterested.
The story ends on a positive, and I was so glad to get the questions that I so badly needed answers to. Super mad, though, that I had to wait the entire book for the ship to get together. Sometimes a girl just wants some fluff, okay?! This is definitely a book I'll be revisiting, especially to go through Emily and  Frank's playlists! Seriously, Morgan Matson has some good taste in music (hello The Format!!!)
Rating: 
If you're interested in reading my GoodReads updates from this book you can do so here. I must say, they're quite entertaining. It will tell you exactly what I was thinking on certain pages.
Like what you see? Follow Drunk On Pop on bloglovin'!