While it seemed borrowed from another story, Half-Blood by Jennifer L. Armentrout was still (literally) kickass. Rating: 3.5/5 (rating lowered due to similarity to another series)
*This is book #8/30 for my 2016 book challenge. You can take a look at the reading challenge here.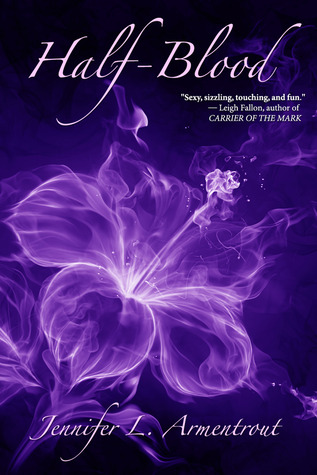 Seventeen-year-old Alexandria would rather risk her life fighting than waste it scrubbing toilets, but she may end up slumming it anyway. There are several rules that students at the Covenant must follow. Alex has problems with them all, but especially rule #1:Relationships between pures and halfs are forbidden. Unfortunately, she's crushing hard on the totally hot pure-blood Aiden. But falling for Aiden isn't her biggest problem–staying alive long enough to graduate the Covenant and become a Sentinel is.

If she fails in her duty, she faces a future worse than death or slavery: being turned into a daimon, and being hunted by Aiden. And that would kind of suck.
This was a really good book. Jennifer L. Armentrout does a fantastic job with writing real characters that speak and act like normal people of that age and demographic, and that makes them that much more relatable when reading them. I really enjoy the chemistry she creates between characters as well, as well as the drama. I've read previous books and series by JLA, and everything that I come to expect and love about her work is in line with the Covenant series. This is a really interesting storyline, and I'm always down for a badass female character. Even if the story seems heavily borrowed from another story. No spoilers, but this is literally kick ass and I'm ready for the sequels!
Also, I'm Greek. So what's interesting to me is seeing the inconsistencies between the Greek mythology I grew up on and the Greek mythology described in this book. Some of it was in line with what I was taught, some was not. It kind of seemed like a mish-mash. Other things seemed like it could be foreshadowing, and I'm not sure if it's actual foreshadowing because I just happen to know what these words/mythological people are or if it's all accidental. So that'll be interesting to see moving forward.
The ONLY reason this is receiving a 3.5 as a rating is because it reminds me so much of Vampire Academy by Richelle Mead. Each book is fleshed out and different in their own ways, but the basics are almost identical. I just happened to have read Vampire Academy first, but while reading Half-Blood I felt like I had already read this book before, that's how similar it was. It was unavoidable. Because of that, I felt like I knew what was going to happen next, and I even got some of the characters names wrong. The book was still fantastic though. What's interesting to me, is that Obsidian, the first in her Lux series was eerily reminiscent of the Twilight series. So I'm a little ….. off about JLA right now. I'm not sure if she's writing fanfic, or if she's trying to make a point about YA novels, or what is going on, but the similarities are far too often and WAY TOO SIMILAR to be coincidences. The fact that this has now happened with two series is a big red flag for me too. So, we'll see what the second book holds.
Rating: 
If you're interested in reading my GoodReads updates from this book you can do so here. I must say, they're quite entertaining. It will tell you exactly what I was thinking on certain pages.
Like what you see? Follow Drunk On Pop on bloglovin'!