Alison Cherry's 'For Real' will take you around the world with two sisters… maybe. Rating: 3/5
*This is book #16/35 for my 2015 book challenge. You can take a look at the reading challenge here.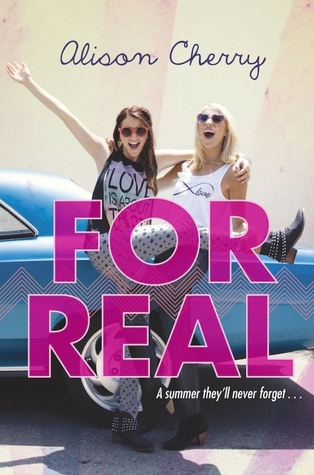 Shy, cautious Claire has always been in her confident older sister's shadow. When Miranda discovers her boyfriend, Samir, cheating on her just before her college graduation, it's Claire who comes up with the perfect plan. They'll outshine Miranda's fame-obsessed ex while having an amazing summer by competing on Around the World, a race around the globe for a million bucks. Revenge + sisterly bonding = awesome.

But the show has a twist, and Claire is stunned to find herself in the middle of a reality-show romance that may or may not be just for the cameras. This summer could end up being the highlight of her life… or an epic fail forever captured on film. In a world where drama is currency and manipulation is standard, how can you tell what's for real?
This had a lot of potential, and I'm a little bit disappointed. I really enjoyed how unique the story was, and I love how the reality show business was portrayed. Even the most realistic of reality shows are somewhat contrived and at least a tiny bit fake, and I'm really glad that the author chose to highlight this fact instead of trying to sweep it under the rug. I think that it helped with a lot of twists and turns, and I found that really interesting.
None of the characters were all that interesting for me, though. It was all just a little blah, and I wanted to smack the main character several times for the way she was acting about the guy she liked. I do feel like each character had some realistic qualities, though, so there's some bonus points there. The book was kind of just fluff, much like a reality show. It was an easy read and it was enjoyable for the most part. Really, the best part of the book was seeing how people can manipulate their personalities. The romance aspect was disappointing, and the older sister was kind of a bitch.
Rating: 
If you're interested in reading my GoodReads updates from this book you can do so here. I must say, they're quite entertaining. It will tell you exactly what I was thinking on certain pages.
PLEASE NOTE: I received a free copy of this book from Netgalley in exchange for an honest review. All opinions held within this review are my own thoughts and feelings and do not reflect upon anyone else.
Like what you see? Follow Drunk On Pop on bloglovin'!