A.N. Willis' new series The Corridor is a fascinating look at a world with multiple universes and the one girl that needs to hold it all together. Rating: 3.5/5
*This is book #14/35 for my 2015 book challenge. You can take a look at the reading challenge here.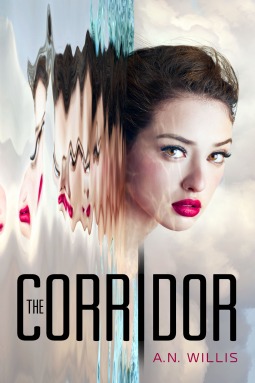 Stel Alaster has never known life without the Corridor. It appeared suddenly seventeen years ago, the only portal to a parallel version of our world—Second Earth. Everyone on First Earth fears Mods, the genetically modified Second Earthers who built the Corridor. They are too smart, too strong, and have powers that can't be controlled. Any Mod found on First Earth is branded, then detained in the Corridor's research labs.

Only Stel has a dangerous secret. She has a power, too: She can open a portal to Second Earth . . . and several other parallel universes she's discovered. If anyone ever finds out, she'll be imprisoned, no better than a Mod or common lab rat.

But when the Corridor starts to fail, emitting erratic bursts of energy that could destroy First Earth, Stel must risk everything to save the people and world she loves. With the help of an escaped Mod and an infuriatingly arrogant boy from a third universe, Stel sets out to unravel the mysteries of the Corridor and stabilize it before it's too late. The fate of every world lies in the balance. . . .
I thoroughly enjoyed the world that A.N. Willis created in The Corridor. There is so much potential when creating a multiverse, but that always comes with the (probable) possibility of the author becoming overwhelmed and dropping the ball. I do not think that happened here at all. The characters were are interesting and complex, and I enjoyed the way they were written. They made decisions that seemed real in the moment, and that's one of the most important things for me.
The story itself reminded me of the tv show Fringe, which dealt with one alternate universe. The possibility of there being a multiverse is fascinating to me. This is a series that, if the author wanted, could go on indefinitely. There are at least 12 or 13 worlds in The Corridor, which means there are countless different stories to be told. I can't wait to find out what happens. The book ended on a major cliffhanger, and I am itching to find out what happens next. Betrayal, reunions, lost love. What more could a reader want? There are also several characters that we have no idea what they're up to. I must know. I must.
What was strange, though, was that the beginning of the book seemed to rushed and crazy. I felt like I was missing out on a big secret and hated not knowing what was going on. I felt like the beginning needed to slow down a tad bit so that I could fully immerse myself in what was going on. Then, toward the middle, it slowed down and I found myself getting bored. The ending was brilliantly done, and I am really looking forward to reading the next installment, The Thirteenth World. Based on how the second half of The Corridor went, I'm sure my little nitpicking issues will disappear.
Rating: 
If you're interested in reading my GoodReads updates from this book you can do so here. I must say, they're quite entertaining. It will tell you exactly what I was thinking on certain pages.
PLEASE NOTE: I received a free copy of this book from Netgalley in exchange for an honest review. All opinions held within this review are my own thoughts and feelings and do not reflect upon anyone else.
Like what you see? Follow Drunk On Pop on bloglovin'!