Veronica Mars is back in Neptune with this follow-up to the 2014 movie (which in and of itself was a follow up to the television show of the same name). Rating: 5/5
*This is book #11/28 for my 2014 book challenge. You can take a look at the reading challenge here.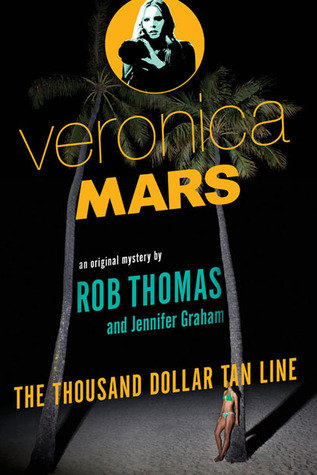 Ten years after graduating from high school in Neptune, California, Veronica Mars is back in the land of sun, sand, crime, and corruption. She's traded in her law degree for her old private investigating license, struggling to keep Mars Investigations afloat on the scant cash earned by catching cheating spouses until she can score her first big case.

Now it's spring break, and college students descend on Neptune, transforming the beaches and boardwalks into a frenzied, week-long rave. When a girl disappears from a party, Veronica is called in to investigate. But this is no simple missing person's case; the house the girl vanished from belongs to a man with serious criminal ties, and soon Veronica is plunged into a dangerous underworld of drugs and organized crime. And when a major break in the investigation has a shocking connection to Veronica's past, the case hits closer to home than she ever imagined.
We have two very serious things to discuss before we jump into this book. For one, you know a book is really good when I don't feel the need to make a ton of Goodreads updates. This book just sucked me right in, just like the show initially did. I had not one single complaint. So, the rest of this review is going to be a ton of gushing. Which brings me to the second serious thing to discuss. I was a huuuuuge Veronica Mars fan. I was completely devastated when the show was prematurely cancelled by The CW all those years ago, and I was one of thousands to donate to their KickStarter campaign to make a movie. I wanted Veronica back in my life so damn badly. So while I am a very proud Marshmallow, I want this review to be taken seriously. Because I am not just squealing with delight at how perfect the book ended up being just because I am a Veronica Mars fan. It is truly a wonderful book, and I honestly have no complaints. I never have zero complaints. Not even with a John Green book. So this is fantastic.
Just as some backup, Veronica's dad was a sheriff-turned-private-investigator while Veronica was a teenager, and as the cases started piling up she used to help out. Ten plus years late, she's back in her home town as a PI in her own right, and she's called in to help with a missing persons case. The girl is in Neptune on spring break when she goes missing, and Veronica has to find her and bring her home before Neptune loses all of their tourists. That's basically the initial premise, anyway. As the story unfolds more and more obstacles start popping up, and more and more bits from Veronica's past start bubbling to the surface.
This is a perfect mystery, as most Veronica Mars episodes were. Just when you think you know what's going to happen or who did it, another twist is brought in and the whole thing changes direction. For those of you that aren't familiar with Veronica Mars you can read it without needing to watch the show or the movie. There's enough there as a story to entertain you. But for us VM fans……. phew. This was flawless. This takes place just a few weeks after the ending of the movie. There's old characters, old references, everything you could possibly want. And yes, (spoiler alert!!!) There is even some LoVe (heh, get it) between Veronica and Logan. When I tell you I have no complaints, I truly have no complaints. The book was wonderfully written and it felt just like watching an episode back in the day. I heard the characters voices in my head. I pictured their movements. It felt wonderful to be reunited with my old friends. Amazing even. But you'll have to read the book yourself, and then come back to fangirl with me, because there is nothing else I can say without spoiling things.
Side-note: While there's no news about whether or not there will be another Veronica Mars movie (fingers crossed though, you literally can't ever count anything out with these guys) there will be another Veronica Mars book coming out on October 28th. It's called Mr. Kiss & Tell and I'm so damn excited. I've missed being a Marshmallow.
Rating: 
If you're interested in reading my GoodReads updates from this book you can do so here. I must say, they're quite entertaining. It will tell you exactly what I was thinking on certain pages.