Blue Lily, Lily Blue is the third in Maggie Stiefvater's Raven Cycle series and I am drowning in feels. Rating: 5/5
*This is book #5/30 for my 2016 book challenge. You can take a look at the reading challenge here.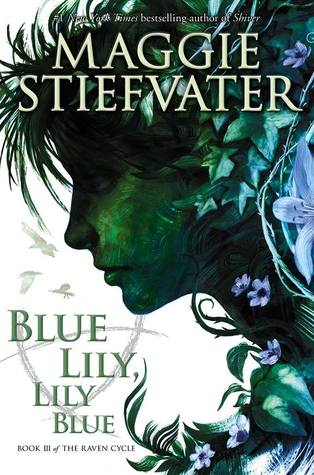 There is danger in dreaming. But there is even more danger in waking up.

Blue Sargent has found things. For the first time in her life, she has friends she can trust, a group to which she can belong. The Raven Boys have taken her in as one of their own. Their problems have become hers, and her problems have become theirs. The trick with found things though, is how easily they can be lost.

Friends can betray.
Mothers can disappear.
Visions can mislead.
Certainties can unravel.
*This is the third in a series. The Raven Boys is #1 and The Dream Thieves is #2*
This series really snuck up on me. I had never heard of it before my best friend told me I had to read it, and now I'm completely obsessed and sweating rivers waiting for the final installment, The Raven King, to come out in a month. It is immensely important to start the review off by stating this, because I'm not going to be able to share a lot of details about why this book was so good, especially as a third in a series, because ~*~spoilers~*~
So yeah, this book was phenomenal. It was definitely the better out of the three, not that the other two were bad at all, but this one was even more detailed and crazy and I had a very hard time putting it down to deal with real life. This one was so creepy, and not in a traditional way. This was really thought out creepiness, and I really loved that. There were so many twists and turns that I had no idea what was going to happen next, and that ending. HOLY SHIT THAT ENDING. Folks, I was completely shocked. I finished the book during my break at work and when I went back everyone asked me if I was okay. It was like, dead-eyes-staring-into-space level craziness.
I'm really sad for this series to end, and it's definitely become a favorite of mine very quickly. Maggie Stiefvater is truly gifted in terms of world-building and character development. Each character is fully fleshed out and unique from the others – completely equipped with their own motivation for doing things and thought processes. Each comes together to form a perfect cast, and without even one character the story would be really lacking. Her bad guys are really bad, but in a relatable way. You know why they're doing what they're doing, and they're actually kind of…. funny? It's almost hard to hate them, which makes it that much better.
Anyway, if you haven't read the series already you need to and if/when you do please come find me so I can gush about how amazing it is without having to worry about spoilers!
Rating: 
If you're interested in reading my GoodReads updates from this book you can do so here. I must say, they're quite entertaining. It will tell you exactly what I was thinking on certain pages.
Like what you see? Follow Drunk On Pop on bloglovin'!