Maggie Stiefvater creates a unique, paranormal story that will drag you into the same obsession as her characters. Rating: 4/5
*This is book #3/30 for my 2016 book challenge. You can take a look at the reading challenge here.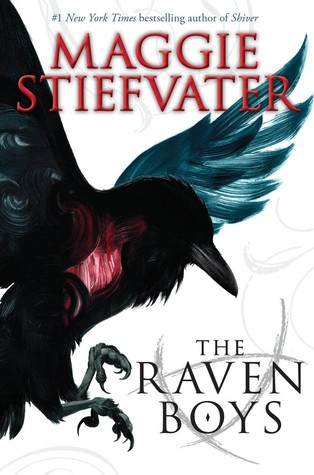 Every year, Blue Sargent stands next to her clairvoyant mother as the soon-to-be dead walk past. Blue herself never sees them — not until this year, when a boy emerges from the dark and speaks directly to her. 'There are only two reasons a non-seer would see a spirit on St. Mark's Eve,' Neeve said. 'Either you're his true love…or you killed him.'

For as long as she can remember, Blue has been warned that she will cause her true love to die. She never thought this would be a problem. But now, as her life becomes caught up in the strange and sinister world of the Raven Boys, she's not so sure anymore.
I was very much impressed with The Raven Boys, especially with Maggie Steifvater's writing. She was able to craft a multi-faceted story with many, many complexities to it, and she did so effortlessly. Each character was perfectly fleshed out and had their own voice – which is rarer than it should be. Very often authors have trouble making their characters unique and with a specific tone. Not only did Maggie provide that, but each character was so well-written that I could even picture their facial expressions when doing certain things.
What's also interesting is that this is a story that is almost realistic. I mean sure, anything supernatural or paranormal has to be taken with a grain of salt. But the way the characters come to be in each others lives, and their obsession with finding Glendower… that part is realistic. They seem so normal because they are, and it makes it that much easier to get pulled into this story.
There were a few predictable moments, but for the most part the story took a lot of pretty big twists and had a lot of plot points that were thrown at the reader like a grenade. I do feel like Whelk was made out like he was going to be more important to the story than he was, along with Neeve, and I'm curious to see if either character pops up later in the series. I'm really looking forward to finding out what else happens to Gansey, Blue, Adam and Ronan. I can't believe that I had never heard of this series before, and now I'm so glad I have. I've already jumped right into the sequel, The Dream Theieves, and I can't wait to finish!
Rating: 
If you're interested in reading my GoodReads updates from this book you can do so here. I must say, they're quite entertaining. It will tell you exactly what I was thinking on certain pages.
Like what you see? Follow Drunk On Pop on bloglovin'!