Scarlet was the fantastically brilliant second installment of Marissa Meyer's 'The Lunar Chonicles' series. Rating: 5/5
*This is book #9/35 for my 2015 book challenge. You can take a look at the reading challenge here.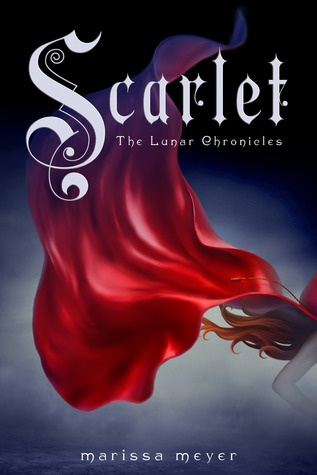 Cinder, the cyborg mechanic, returns in the second thrilling installment of the bestselling Lunar Chronicles. She's trying to break out of prison–even though if she succeeds, she'll be the Commonwealth's most wanted fugitive.

Halfway around the world, Scarlet Benoit's grandmother is missing. It turns out there are many things Scarlet doesn't know about her grandmother or the grave danger she has lived in her whole life. When Scarlet encounters Wolf, a street fighter who may have information as to her grandmother's whereabouts, she is loath to trust this stranger, but is inexplicably drawn to him, and he to her. As Scarlet and Wolf unravel one mystery, they encounter another when they meet Cinder. Now, all of them must stay one step ahead of the vicious Lunar Queen Levana, who will do anything for the handsome Prince Kai to become her husband, her king, her prisoner.
*Please note, this is the second book in a series. Do not continue reading if you have not read the first book.
This series really does just keep getting better and better. This book is a bit different in that it does not strictly follow Cinder's journey. Instead, it adds Scarlet (Little Red Riding Hood, obvs) and her Grandmother's disappearance into the fold. Honestly, I was mad at first. I wanted to know what was going on with Cinder, and I didn't care about Scarlet in the slightest. I was so so so wrong, though. The way Marissa Meyer writes is truly brilliant. Not only in the way that she has taken these well known fairy tales and reimagined them in a unique and creative way, but also in the way that she intertwines these very different characters into the same world. I really cannot compliment Marissa enough. Normally I hate when a story is told from various perspectives, but she jumps from these characters so effortlessly. They all have very distinctive voices and personalities, which is rare in similar YA books.
As for the plot – just when you think it can't get any juicier, it does. There are so many little twists and turns, so many moments worth gasping over. And you know it's not even close to being over yet! There are so many little cliffhangers, and there if the series so far were a roller coaster it would be filled with loops and steep drops. Truly wonderful. There are very few books that have ever gotten me this excited.
Speaking of a series getting me excited. I finished the book late last night, went to work today with every intention of buying the third when I got out… except I forgot. I was only a mile from home when I realized I forgot and I spent a full red light debating whether it was worth turning around for and I had to turn around and go get it. The thought of going the next 48 hours without continuing the series was enough to force me to turn back around and go back to work and buy the next book and that's the biggest compliment I could ever give. I don't go back to work for anything.
Rating: 
If you're interested in reading my GoodReads updates from this book you can do so here. I must say, they're quite entertaining. It will tell you exactly what I was thinking on certain pages.
Like what you see? Follow Drunk On Pop on bloglovin'!