Things get a bit strange in Miss Peregrine's Home for Peculiar Children by Ransom Riggs. Strange, but not all that creepy. Rating: 4/5
*This is book #5/35 for my 2015 book challenge. This was also book #5/6 for the 'New, New, and New!' group challenge. You can take a look at the reading challenge here.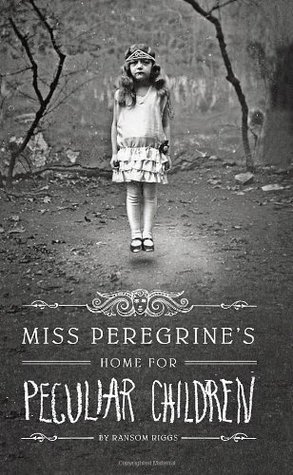 A mysterious island. An abandoned orphanage. A strange collection of curious photographs.

A horrific family tragedy sets sixteen-year-old Jacob journeying to a remote island off the coast of Wales, where he discovers the crumbling ruins of Miss Peregrine's Home for Peculiar Children. As Jacob explores its abandoned bedrooms and hallways, it becomes clear that the children were more than just peculiar. They may have been dangerous. They may have been quarantined on a deserted island for good reason. And somehow—impossible though it seems—they may still be alive.
I am simultaneously content and disappointed. I've been seeing Miss Peregrine's Home For Peculiar Children on bookshelves for years and always been intrigued by the cover. I finally picked it up and was even more intrigued by the description. I was really disappointed, though, that the story wasn't nearly as creepy or eerie as I was hoping for. I was looking forward to a book that made it hard for me to sleep at night. I get that the point was to show that the peculiar children were actually pretty normal, so while I was disappointed I can't say that I disliked the book.
I felt like it was well written, though a bit long. I found it to be really unique and I liked the idea behind it. The author, Ransom Riggs, has spent a lot of time collecting this strange photographs and I liked that he stringed them all together to create this story. He took the kind of illusions that people associate with "freak-shows" like levitation, invisibility, the strong man/woman, etc and added another world to the mix. I was especially interested in the ymbrines and their ability to loop time.
There were some cringe worthy moments. The relationship between Emma and Jacob absolutely disgusted me, though at least the author mentioned the weirdness briefly. The way the parents were with Jacob was also ridiculous to read. It probably would have been better if he were 18, had a strained relationship with them and limited communication. Other than that, it was certainly an enjoyable read.
Rating: 
If you're interested in reading my GoodReads updates from this book you can do so here. I must say, they're quite entertaining. It will tell you exactly what I was thinking on certain pages.
Like what you see? Follow Drunk On Pop on bloglovin'!