Top Ten Clues You're Cluless by Liz Czukas was a pleasant fluff read with diversity(!!!) and a lot of lists. Rating: 3.5/5
*This is book #1/35 for my 2015 book challenge. This was also book #1/6 for the 'New, New, and New!' group challenge. You can take a look at the reading challenge here.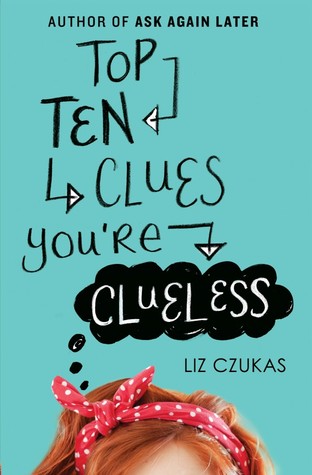 Chloe would rather be anywhere than locked in work jail (aka the break room) with five of her coworkers . . . even if one of them is Tyson. But if they can band together to clear their names, what looks like a total disaster might just make Chloe's list of Top Ten Best Moments.
I was pleasantly surprised by this book. So, to start, I should probably explain how this ended up in my hands. I started a new group challenge that requires us to read at least 6 books by authors we've never read before. I was in Barnes & Noble with my brother looking for a different book entirely, which of course was out of stock. As I scoured through the books, my bored brother picked this up and was like, "Just read this one!". So, I did. I am so glad I did.
This book is all fluff. There's no way around it. Sure, there's a conflict, but it's all very frosted over and at no point did I ever feel like any of the characters ever had anything to worry about. It's also very Breakfast Club, in the good ways. A group of misfit kids with seemingly nothing in common, stuck together after work – each with a different story hidden underneath the surface. A group of people that never would have been friends that all of a sudden become besties because of a shared experience. This was mixed in with a bit of a mystery that was, admittedly, quite easy to figure out on your own. This was not the best book I've ever read, but it still felt like a nice breath of fresh air.
For one, the diversity was wonderful. The main character is a redhead with Type I Diabetes and glasses. Her crush is on a black teen with glasses. There's a rebellious girl with short hair that everyone perceives to be a lesbian but actually isn't. (I realize this isn't necessarily diverse, but I enjoyed the way in which this character insisted on stopping stereotypes). Their was a Muslim/Lebanese girl that was simultaneously trying to make her parents proud while also refusing to bend for every traditional value that she didn't believe in. Each character was individualized and interesting on their own.
There was also a list at the beginning of every chapter, and I happened to enjoy them very much. It added some humor as well as a look into life outside of this little grocery store. It rounded out the story nicely, and I think it's what made it stand out most from other "fluff books" like it. Top Ten Clues You're Clueless was easily devoured, and it was nice to just read a pleasant story without any angst. Not every story needs to wrap you up and peel away your layers and bring your emotions to the forefront.
Rating: 
If you're interested in reading my GoodReads updates from this book you can do so here. I must say, they're quite entertaining. It will tell you exactly what I was thinking on certain pages.
Like what you see? Follow Drunk On Pop on bloglovin'!