Malinda Lo writes Adaptation as a unique science-fiction novel with (finally!!) some diverse main characters. Rating: 3.5/5
*This is book #19/28 for my 2014 book challenge. This is also book #3/7 for my YA-MA book challenge. You can take a look at the reading challenges here.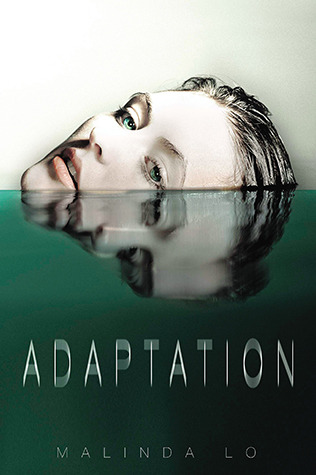 Reese can't remember anything from the time between the accident and the day she woke up almost a month later. She only knows one thing: She's different now.

Across North America, flocks of birds hurl themselves into airplanes, causing at least a dozen to crash. Thousands of people die. Fearing terrorism, the United States government grounds all flights, and millions of travelers are stranded.

Reese and her debate team partner and longtime crush David are in Arizona when it happens. On their drive home to San Francisco, along a stretch of empty highway at night in the middle of Nevada, a bird flies into their headlights. The car flips over. When they wake up in a military hospital, the doctor won't tell them what happened, where they are—or how they've been miraculously healed. […] Her search for the truth is forced in an entirely new direction—and threatens to expose a vast global conspiracy that the government has worked for decades to keep secret.
Alright, we need to get something off our chests right away. Adaptaion was a good book, and Malinda Lo wrote a compelling story with interesting and unique characters. When I was scrolling through reviews on Goodreads I was overwhelmed with the amount of people that were praising Malinda for writing her main character as a bisexual teenage girl. There was also a male asian side character and a full on gay male side character, so yay for diversity! I also praised Malinda in one of my status updates. It's an upsetting fact that main characters in young adult books tend to be straight white females, and so it is of course refreshing to read some diversity. Unfortunately though, the sexuality of the main character seems to be what everyone is focussing on. Adaptation is far more than the sexuality of one character, and while it is exciting and new, it shouldn't be.
So, now that we've gotten that out of the way, let's talk about the actual book. I was hooked instantly. The first dozen chapters or so were so incredibly well written. I felt like I was watching a (good) horror movie, and I couldn't put the book down. There were birds falling from the sky, riots happening, major cities becoming completely deserted. Malinda had the framework down perfectly, but somewhere in the middle she lost me. The story went from being a gripping sci-fi novel to being an annoying contemporary romance – complete with love triangle (but yay for bisexual main character!!!!) – with just a few paranormal aspects. Actually, I guess it would be more of a paranormal romance… without the intensity that other paranormal romances have. It was maddening, because the sci-fi aspects that did peek through were phenomenal. While I'm glad we have a bisexual main character, I would have preferred if the entire book had put off romance completely. In this case, yes, the relationships had a somewhat integral part of the story, but I felt like far too much time was spent on these relationships and it took away from my reading experience.
The story was also really weird. Which for the most part was actually kind of wonderful. It has a very X-Files feel to it, which is a huge compliment. There were some pretty decent twists and turns, and who doesn't love a good government conspiracy theory? This book had all of the elements to make it a good story, and overall it was a really good story. I felt like the end was quite forced and completely ridiculous, but I feel like this will all make sense in the sequel. Which, by the way, I was really freaking out at around 83% through the book because I didn't know if there would be a sequel and I knew we needed one. There is definitely a lot more to this story for Malinda to tell, and I am hoping that some of the romance issues aren't as prominent in the next installment.
Rating: 
If you're interested in reading my GoodReads updates from this book you can do so here. I must say, they're quite entertaining. It will tell you exactly what I was thinking on certain pages.
PLEASE NOTE: I received a free e-galley version of this book from NetGalley in exchange for an honest review. All opinions held within this review are my own thoughts and feelings and do not reflect upon anyone else.
Like what you see? Follow Drunk On Pop on bloglovin'!